Speed Limiter is a device designed to limit the speed of vehicle like car, truck, schools bus, forklift and so on. Most of the speed limiters are fitted because of the government regulations.

Our speed limiter is a small, electronic device that restricts the top speed of a vehicle to 80 km per hour. If driver reaches to the default top speed, our speed limiter sound an alarm to warn the driver to slow down. If driver do not slow down , our speed limiter automatically starts to reduce the speed of the vehicle until the speed reaches or drops below the allowed speed limit. Our device uses a computer to monitor driving behaviors and regulate speed, the device provides invaluable information that can ultimately save lives. It is easily installed and monitors driving behaviors so you can see how your vehicle behave behind the wheel.
ATNgps is a speed limiter & fleet tracking management system, effectively used by many companies, public divisions and individuals all around the world. It lets you to track unlimited number of trucks/assets in real time, get specific notifications, generate reports and much more. ATNgps system is compatible with most gps devices and SmartPhones. It is simple to use, just contact us, add your gps devices once your account is ready, and start tracking your objects/assets in no time.
---
Powerful Features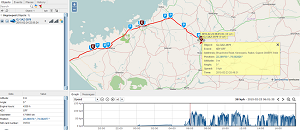 Real-Time Tracking

In Real-Time Tracking mode, you can observe the location of assets/objects in real time, on the map of your preference: Bing, Google, Satellite etc. This feature can be used at any time from any computer or Smartphone connected to the Internet. Moreover, you will be able to observe extra information about the object by clicking on the pointer of your icon on the map: exact address, travel speed, fuel consumption etc.
.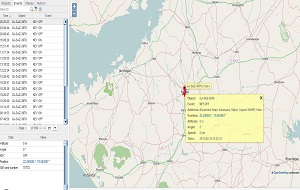 Notifications
Receive instant alerts about your defined events when something triggers: That kind of events might be when object enters or exits geo-zone, speeding, theft, stopovers, SOS alarm, GPS signal loses etc. Via pop-up window, email, smartphone app, or SMS.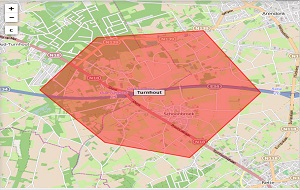 Geofence
Geofence feature lets you set up geographic boundaries around areas/locations that have specific interest for you. Therefore, you will receive an automated alerts Via pop-up window, email, smartphone app, or SMS whenever object/trucks enters or leaves those boundaries.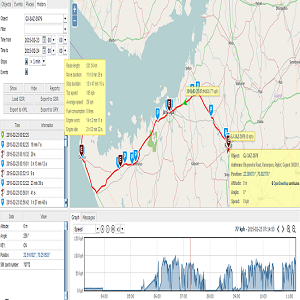 Report & History

The history of tracks can be put on the map with further information, such as time, speed graph, driving hours, stopovers, distance traveled, fuel consumption, reports, etc by fuel level, fuel filling, fuel theft, zone in/out, under speed, over speed, etc. View or download reports in different formats.
History Graph

History graph displays object device sensor results. It can present altitude, speed, ignition, fuel level, temperature graph over period of instance.

1. Graph: lets to view vehicle information in a graph
2. Messages: list of all location points received from device for selected period of time
3. Sensor: lets to choose one of available device sensor such as fuel sensor, temperature sensor, etc
4. Controls: lets to play, pause and stop recorded route
5. Points: displays object details at a chosen point
6. Arrows: lets to move graph from point to point
7. Zoom control: lets to zoom in & out graph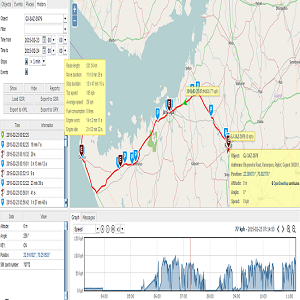 Fuel Theft Monitoring

By monitoring both vehicle refueling and drivers road behavior, you can effortlessly cut back one of the primary incurring costs of fleet management. With the ATNgps Fleet tracking system, you can:
monitor refueling and actually tanked fuel quantities using a real-time graph depicting tank fuel levels
control all unauthorized fuel draining through the refueling report
verify real consumption and examine driver's road behavior
precisely calculate travel costs through reports summarizing average consumption (km per 1 liter of fuel)
monitor refueling at non-authorized service stations.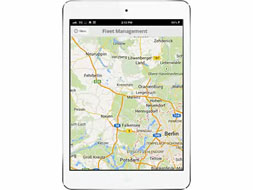 Mobile App

With ATNgps Mobile App, you can easily track and access all ATNgps features on your mobile or tablet. Moreover, you can download our 'Mobile GPS Fleet Tracking' app on any smartphone and transform your device into GPS tracker.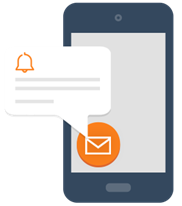 SMS & Email Notifications

Most significant feature for any fleet tracking platform is e-mail and SMS notification system, which informs client about different actions. Stay informed if vehicle entered/exit zone or route, Fuel refueling/draining, exceeded speed limit or driver has changed route, etc. ATNgps Tracking system has many purposes to get all potential information about person, vehicle or fleet.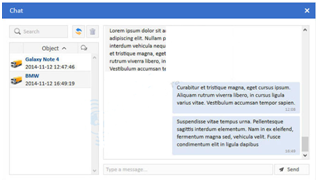 Live Chat

ATNgps Tracking system allows live chat communication in both direction send and receive messages between the drivers and operator. This feature is fully supported by android device.